Group-IB, a global cybersecurity leader headquartered in Singapore, can reveal that the scam-as-a-service operation Classiscam is continuing its worldwide campaign well into 2023. In a new blog, Group-IB analysts detail how the automated scheme uses Telegram bots to assist with the creation of ready-to-use phishing pages impersonating companies in a range of industries, including online marketplaces, classified sites, and logistics operators. These phishing pages are designed to steal money, payment data, and recently in some cases, bank login credentials from unsuspecting internet users.
According to Group-IB's findings, 251 unique brands in a total of 79 countries were featured on Classiscam phishing pages from H1 2021 to H1 2023. In addition, the phishing templates created for each brand can be localized to different countries by editing the language and currency featured on the scam pages. As a result, one particular logistics brand was impersonated by "Classiscammers" targeting users in as many as 31 countries.
Since the second half of 2019, when the Group-IB Computer Emergency Response Team (CERT-GIB) in cooperation with the company's Digital Risk Protection unit first identified Classiscam's operations, 1,366 separate groups leveraging this scheme have been discovered on Telegram. Group-IB experts examined Telegram channels containing information pertaining to 393 Classiscam groups with more than 38,000 members that operated between H1 2020 and H1 2023. During this period, these groups made combined estimated earnings of USD $64.5 million. Group-IB has noted how the threat actors behind Classiscam have worked, since the scam's inception, to formalize and expand the scam model's operations. From 2022 onwards, Classiscammers have introduced new innovations, such as phishing schemes designed to harvest the credentials of victim's online bank accounts, and some groups have begun to use information stealers. 
In line with its mission of fighting against cybercrime, Group-IB will continue to share its findings about Classiscam, drawn from the company's proprietary Digital Risk Protection solution, with law enforcement authorities. The primary aim of this research is to raise public awareness about the latest scamming methods and reduce the number of victims of this scam operation.
Gone global
Classiscam originally appeared in Russia, where the scheme was tried and tested before being launched across the globe. The scam-as-a-service affiliate program surged in popularity in spring 2020 with the emergence of COVID-19 and the subsequent uptick in remote working and online shopping.
Group-IB experts noticed how the scam scheme was exported first to Europe, before entering other global regions, such as the United States, the Asia-Pacific (APAC) region, and the Middle East and Africa (MEA). As of H1 2021, Classiscammers had targeted internet users in 30 countries. Group-IB experts can reveal that, as of H1 2023, this figure has risen to 79. In the same time period, the number of targeted brands on the global market has increased from 38 to 251.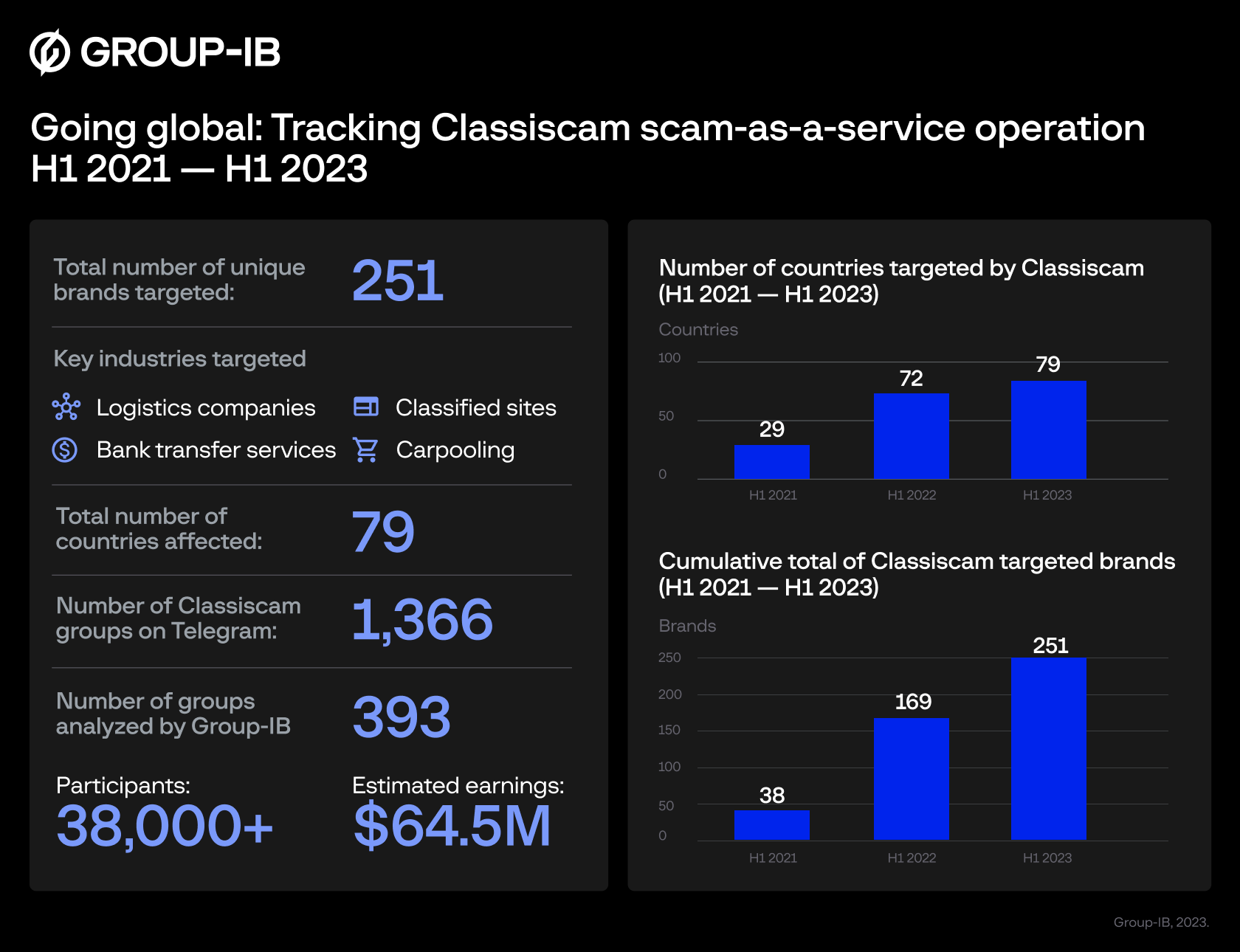 More than 62.2% of the Classiscam resources analyzed by Group-IB experts that were created between H1 2021 and H1 2023 targeted users in Europe. Other heavily targeted regions were the Middle East and Africa (18.2% of resources) and the Asia-Pacific region (13%).
Internet users in Germany completed 26.5% of all transactions registered in Classiscam chats, the highest value of any country. Next on this list were Poland (21.9%), Spain (19.8%), Italy (13.0%), and Romania (5.5%).
The average amount lost by Classiscam victims worldwide was $353, although UK users lost the most, on average, to Classiscammers, as the average fraudulent transaction was $865. Next on this list were users in Luxembourg ($848 per transaction), Italy ($774), and Denmark ($730).
What's new?
Classiscam was initially launched as a relatively straightforward scam operation. Cybercriminals created fake ads on classified sites, and leveraged social engineering techniques to trick users into "buying" the falsely-advertised goods or services, whether by transferring money directly to the scammers or by debiting money from the victim's bank card.
Classiscam operations have become increasingly automated over the past two years. The scheme now utilizes Telegram bots and chats to coordinate operations and create phishing and scam pages in a handful of seconds, and many of the groups offer easy-to-follow instructions, and experts are on hand to help with other users' questions. A full rundown of how the Classiscam scheme works in practice is provided in the below Figure 5.
Over the past year, Group-IB researchers have seen roles within scam groups become more specialized within an expanded hierarchy. Classiscam phishing pages can now include a balance check, which the scammers use to assess how much they can charge to a victim's card, and fake bank login pages that they use to harvest users' credentials. At the time of writing, Group-IB experts found 35 such scam groups that distributed links to phishing pages that include fake login forms for banking services. In total, Classiscammers created resources emulating the login pages of 63 banks in 14 countries. Among the targeted banks were those based in Belgium, Canada, Czech Republic, France, Germany, Poland, Singapore, and Spain.
"Classiscam shows no sign of slowing down and the ranks of the Classiscammers are continuing to swell. Over the past year, we have seen scam groups adopt a new, expanded hierarchy, and roles within organizations are becoming increasingly specialized. Classiscam will likely remain one of the major global scam operations throughout 2023 due to the scheme's full automation and low technical barrier of entry."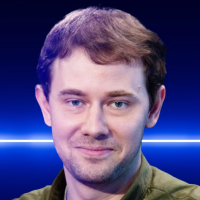 Vladimir Kalugin
Operations Director (Digital Risk Protection) at Group-IB
Group-IB will continue to monitor global Classiscam campaigns, engaging with both law enforcement and affected brands to assist in efforts to take down these scams. Companies whose brand and likeness are impersonated by scammers are recommended to leverage Digital Risk Protection solutions that can actively monitor, identify, and take down phishing domains.
Try Digital Risk Protection by Group-IB
Defend your digital assets with best-in-breed, AI-powered brand protection online solution.